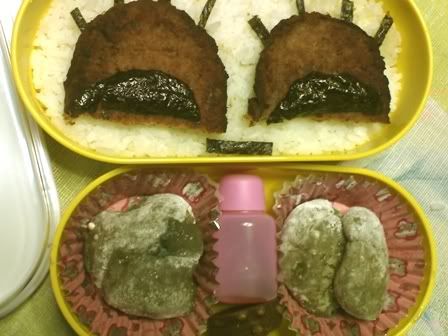 Eyeful bento! hehehe
Top tier: Rice topped with burger patties and nori
Bottom tier: Sesame seed mochi, bottle of ketchup and a chocolate-covered marshmallow


It's been a long, long time since I made my last bento. I feel like I've forgotten how to make one. This is a simple bento I made today. It's not much but I hope it get's me back on track to my bento-making ways. :)
Join me as I list my latest purchases and where I bought them at:
http://www.kitchencow.com/2007/08/24/manila-bento-bargain-report/
Manila-based bento addicts alert! Get your bento boxes and accessories while they're hawt and still stocked locally. Daiso / Japan Home, Giftgate & Hatchin!
Current Mood:

okay

Current Music:

The Killers - Mr. Brightside
Current Mood:

blah

Current Music:

Sounds in the Editorial Dept. - Clickety-clackety keyboards
Update: This list is sorely outdated! A lot of these stores don't exist anymore, but now we have Daisos, Japan Homes, and Saizen that carry a ton of bento boxes and accessories! I might update this list someday, but for now, those stores I mentioned above and the ones that still exist below are pretty good places for bento items.

Choto Shop - Japanese groceries, bento accessories
LIttle Tokyo, across Plaza Fair Makati Cinema Square, Makati

Daiso 88 Peso Store - bento boxes, bento accessories
Alabang Zapote wing, Alabang Town Center

Expressions Bookstore - bento boxes
Sta. Lucia Metro East Mall, Marcos Highway smack on the Marikina/Cainta border

Fujimart - Japanese groceries
Little Tokyo, across Plaza Fair Makati Cinema Square, Makati

Japan Home Center - bento boxes and accessories
3F Market Market, Fort Bonifacio, Makati
Park Square 1, Ayala Center, Makati
Ground floor, Festival Mall, Filinvest, Alabang

New Hatchin Japanese Grocery - bento boxes, accessories and tools, Japanese groceries, ready-to-cook bento supplies
Sacred Heart Ave, San Antonio Village, Makati City

Sakura Grocery - Japanese groceries, bento boxes
Pasay Road, near New World Renaissance Hotel, Makati

Sanmoo Korean Grocery - Japanese groceries
Centerpoint Building, Ortigas Center, Mandaluyong City

Seoul Seoul Mart - Japanese & Korean groceries, bento accessories
Casa Susana, Alabang Town Center
Current Mood:

blah

Current Music:

Sounds in the Editorial Dept. - Clickety-clackety keyboards
kaoko_cow
got me itching to make bento again. This community has stagnated while I was gone - so sorry for that peeps, my bad.
Anyway, I'll be making a post listing local shops here in the country that sell bento supplies. Please comment if you know of others. I've been told that there are shops in Cartimar and Tutuban that sell bento boxes, but I'm not sure where they are exactly. For now I've copied over the directory at
bentolunch
since it pretty much has all the main stores. If you have a Japan Home Center or other japanese store with a branch near you that's not included in the list, please holler.
I'm also making a directory of all the Filipino bento sites. If you have a site that you want us to link to, just comment. Thanks!
Hi everyone! I just wanted to post to apologize for being missing in action for a while. I've been on a bento hiatus, but a recent chat with
Current Mood:

blah

Current Music:

Sounds in the Editorial Dept. - Clickety-clackety keyboards


Top Tier: Rice on both sides with nori with tulip cutouts and leftover marinated fish in the middle. I think this was cooked in soy sauce ala Adobo
Bottom Tier: (L to R) flat top chocolates, kiamoy with honey and kimchi


My lunch last Tuesday.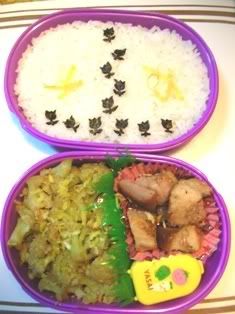 Top Tier: Rice with lemon zest swirls and tulip noris
Bottom Tier: Shrunken (hahaha!) Cauliflower with oyster sauce and lechon kawali in hello kitty cupcake holder, container with sauce



I went to Puregold last night to buy some fruits but I ended up buying cauliflower instead. I really don't know how to cook cauliflower by itself so I just bought some oyster sauce to top the steamed cauliflower. This is the resulting bento of my efforts last night: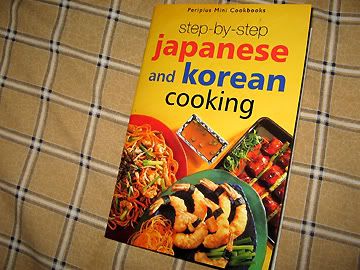 Step-by-Step: Japanese and Korean Cooking. I can't wait to use this cookbook! I was in
FullyBooked
in Mall of Asia with the bf a while back, when I chanced upon a whole rack of these books. There were a lot of different varieties, from Filipino cooking to smoothies and cocktails.
This particular book only cost around a hundred pesos, but it has very good recipes, ingredient and measurement guides, plus beautiful pictures. I like that this book has all the basic Japanese dishes - tonkatsu, yakitori, onigiri, sushi, miso soup, tempura, and such. The Korean recipes are a great bonus as well. I'm guessing that
Powerbooks
also has these. For those of you who aren't in the Philippines, you might be able to get the books through the publisher,
Periplus
.
It's been sitting on my shelf for a while now! I have to stop being lazy and start making bento regularly again.
Current Mood:

sleepy

Current Music:

Asian Kung-Fu Generation - Rewrite